These glasses have been specially designed to block blue light from devices which affect children negatively. 
These glasses have been specially crafted with special care with special supervision to provide superior care for children's eyes.
45-14-124
Age: 5-7 years
According to national sleep foundation: As difficult as it is to get kids to stop watching TV or using their electronic devices before bedtime, there's a compelling reason to make it happen. The blue light that's emitted from these screens can delay the release of sleep-inducing melatonin, increase alertness, and reset the body's internal clock (or circadian rhythm) to a later schedule. This is an especially big problem for teens whose circadian rhythms are already shifting naturally, causing them to feel awake later at night. The end result: sleep-deprived or poorly rested kids who have essentially given themselves a mini case of jet lag.
According to preventblindness.org 
How Does Blue Light Affect the Eyes?
Almost all visible blue light passes through the cornea and lens and reaches the retina. This light may affect vision and could prematurely age the eyes. Early research shows that too much exposure to blue light could lead to: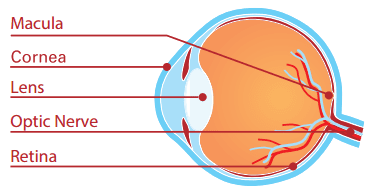 Digital eyestrain: Blue light from computer screens and digital devices can decrease contrast leading to digital eyestrain. Fatigue, dry eyes, bad lighting, or how you sit in front of the computer can cause eyestrain. Symptoms of eyestrain include sore or irritated eyes and difficulty focusing.
Retina damage: Studies suggest that continued exposure to blue light over time could lead to damaged retinal cells. This can cause vision problems like age-related macular degeneration.
What Can You Do to Protect Your Eyes from Blue Light?
If constant exposure to blue light from smart phones, tablets, and computer screens is an issue, there are a few ways to decrease exposure to blue light:
Screen time: Try to decrease the amount of time spent in front of these screens and/or take frequent breaks to give your eyes a rest.
Filters: Screen filters are available for smart phones, tablets, and computer screens. They decrease the amount of blue light given off from these devices that could reach the retina in our eyes.
Computer glasses: Computer glasses with yellow-tinted lenses that block blue light can help ease computer digital eye strain by increasing contrast.
Anti-reflective lenses: Anti-reflective lenses reduce glare and increase contrast and also block blue light from the sun and digital devices.
Intraocular lens (IOL): After cataract surgery, the cloudy lens will be replaced with an intraocular lens (IOL). The lens naturally protects the eye from almost all ultraviolet light and some blue light. There are types of IOL that can protect the eye and retina from blue light.
For more information please see the study by The American Optometric Association and Optometry Cares – The AOA Foundation: https://www.aoa.org/Documents/OptometryCares/Blue%20Light%20Impact%20in%20Children.pdf
#safelyfe